1210-3306
(Print)
1805-9708 (Online)



CONTACT ADDRESS
Listy cukrovarnické
a řepařské
U Jednoty 7
142 00 Praha 4
Czech Republic

tel.: +420-261 090 645
fax: +420-261 090 649
cukr-listy(a)centrum.cz

Journal issued by
VUC Praha Inc.



LISTY CUKROVARNICKÉ a ŘEPAŘSKÉ (CZECH SUGAR AND SUGAR BEET JOURNAL) is a scientific journal devoted to sugar beet growing, sugar production for food and other industries and to ethanol production. Contains research articles and other shorter contributions, news from the industry, and other information.



THE JOURNAL IS CITED AND/OR ABSTRACTED BY: Agrindex of Agris/FAO, Czech Agricultural and Food Bibliography, EBSCO – Central & Eastern European Academic Source, Food Science Source, DOAJ – Directory of Open Access Journals, Food Science and Technology Abstracts, SCOPUS, Sugar Industry Abstracts (CAB International), Thomson Reuters: ISI Web of Knowledge / Web of Science.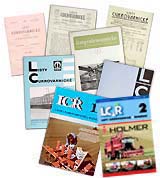 READERS OF THE JOURNAL:

sugar beet growers,


sugar industry management and engineers,


ethanol producers, food industry companies,


university teachers and students,


researchers and developers,


libraries and school staff,


state institutions and government agencies,


firms supplying seed, pesticides, machinery etc.,


firms related to our branch etc.

The journal is issued monthly.
Articles are published in Czech or Slovak with English Abstracts.

The Bohemian-Moravian Sugar Association, the Sugar Beet Growers Association,
the Union of Distilleries of the Czech Republic and the Slovak Association of Sugar
Producers participate in issuing Listy cukrovarnické a řepařské.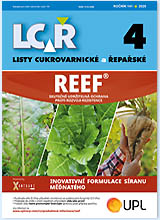 The following link
leads to article abstracts
and full texts (in pdf).